Random Password Generator In Vanilla JavaScript
20/09/2020
🔑
Table of Contents
Intro
This is a little project I've been wanting to do for a while. To create a simple password generator that is similar in functionality to something you'd see in the likes of LastPass or 1Password, that can be quickly used to create secure passwords. A snapshot can be seen in the below image. Click the live site link below to see it in action.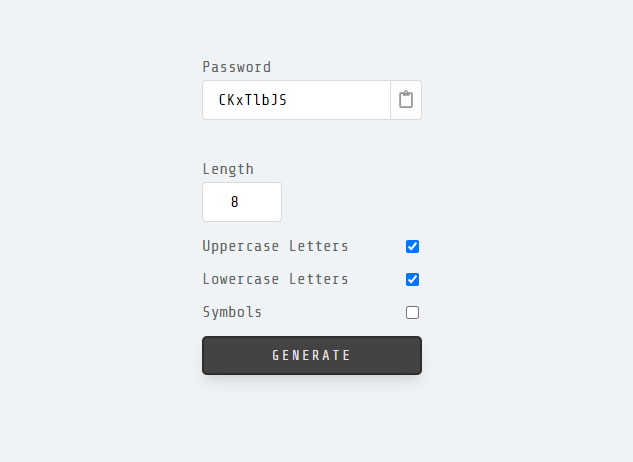 Functionality
Being a very simple version of something you'd find on password storing apps, the functionality I was aiming for is:
Optional checkboxes for:

Uppercase letters
Lowercase letters
Symbols
Numbers

Ability to specify how many characters the password
Error validation in the form of a simple toast when:

No checkboxes are selected when the user clicks the 'Generate' button. It should also default to one which is lowercase in this case)
Nothing to copy. When user clicks 'copy to clipboard' button and no checkboxes are selected, toast message should show.
Live Site
GitHub Repo
---